Let's make your brand sing.
LOGO DESIGN   |   BRAND IDENTITY    |    WEB DESIGN     |     DESIGN RETAINERS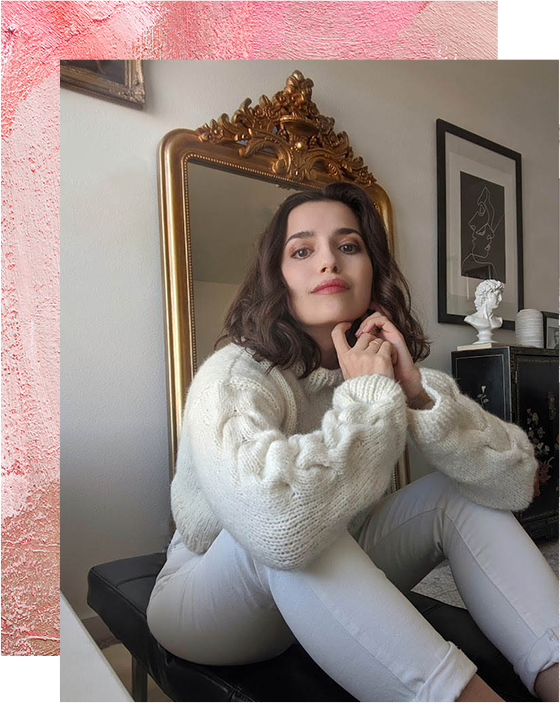 This is Jenny Rose.
Brand Identity + Web Designer + Art Director
Knitted the sweater in the picture.

"I've worked with over 50 brand founders in the last decade. I've created national campaign design assets for household-name brands, and I've built brand identities for solopreneurs working on their personal passions. No matter the business size or industry, you aim for a design look and a feel that's totally right — that you can recognize, and that your customers will resonate with and see themselves in too. You want an engaging web presence that makes sense and communicates everything your business is. That's what we're going for."
01.
"My industry is very niche and complex yet Jenny was able to streamline my site down to a simple, concise and beautiful one, with the exact information my audience needed to see, without too much overwhelm. I swear Jenny is a mind-reader, she REALLY gets to know her clients and their taste. I am constantly getting compliments."
— MEGAN EDGECUMBE,
YOUR FERTILITY ADVOCATE
02.
"Truly a gem! Jenny's designs are beyond beautiful. The way she writes is engaging. She is a dream to work with. Always kind, has an amazing work ethic, joyful attitude, and super creative. Whenever the phone would ring and it was Jenny, I would start smiling knowing this intelligent woman had something fantastic up her sleeve."
— RYAN JORDAN,
EDUCATED NANNIES
03.
"Jenny combines impressive creative abilities with a problem-solving mentality. My brief to her was to build a news site that was "classy," clear and easy to navigate, and that could sustain rolling news updates. She delivered beyond my greatest expectations. The Creative Industries News site is a winner and a major factor in people deciding to buy."
— EMMANUEL LEGRAND,
CREATIVE INDUSTRIES NEWS
We craft thoughtful, personalized, custom brand identities, websites, and all the designs in between.
BRAND IDENTITY / LOGO DESIGN
We'll create a strong, unique and clear visual direction for your brand. This means logos and so much more than logos! We will do a deep dive into your business, and your goals, while also delving into the personality of your brand and of your customer. We'll create a mood board to get clear on a visual direction, and then go into logo design. By the end, you'll be able to "see" your brand, and trust us – it will be a fun process.
DELIVERABLES:
Logo design in several versions.
Mood Board
Color Palette
Font Set
WEBSITE DESIGN & DEVELOPMENT
Your website is like a 24/7 employee – and that's who you'd want to offer amazing customer service! We design and develop beautiful websites that inform, engage and draw in your customer. We flex our writing skills to draft personality-filled copy, and our development skills to add in any functionality you need – whether that's e-commerce, quizzes, CRM integrations or more, we've got you.
DELIVERABLES:
Fully custom designed and developed website or e-commerce site.
Simple navigation and clear calls-to-action.
Fulfilled with SEO and ADA best practices.
DESIGN & WEB RETAINERS
 Retainer packages ensure you have reliable, high quality and consistent design talent and time available as you need it. It's a solid solution for midsize businesses that have a lot of miscellaneous graphic design and website-related needs spring up, but not necessarily enough to require a full-time dedicated designer. 
KINDS OF DELIVERABLES:
Print asset designs: flyers, posters, brochures, cards, reports.
Web assets: website edits and updates, new functionality or pages, single page websites (like for events or launches), and more.
LET'S CHAT!
Our portfolio is launching soon. In the meantime, reach out for work samples, pricing information and availability.